Tattooing has been part of the communicative culture of humanity for many thousands of years. According to the Smithsonian, tattoos have been with us since at least 3250 BCE, the dating suggested for two of the oldest mummies ever found. Ancient tattooing was most prevalent among the Austronesian people, who punctured skin using a small hammer and thorn, fish bone or shell. Tattooing was also documented among the Papuans and Melanesians, as well as the Ainu people of Japan, Berber women in North Africa, Native Americans in pre-Columbian America and the Picts of Iron-Age Britain.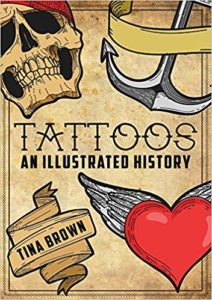 It's commonly believed that the modern fascination with tattoos dates to James Cook's voyages to the South Pacific in the 18th century, when the word 'tattow' was imported to western languages. Though tattoos weren't unheard of at that time in the west, the first documented professional tattooist in Britain popped up for business in the mid 1890s, servicing, among others, royals who wanted their own art, according to Tina Brown in Tattoos: An Illustrated History. Some 50 years before, Martin Hildebrandt opened the first tattoo studio in New York City. Civil war soldiers were frequent visitors (both Union and Confederate) and Hildebrandt went between camps offering his tattoos to soldiers and sailors, to aid identification in the event they died in action. David McComb uses 100 Years of Tattoos to explain the emergent adoration for the form from 1914 to the present day, covering 100 years of war, fashion, art and resistance.
To read more, visit Book Riot.